Jul 8, 2022
125
185
43
42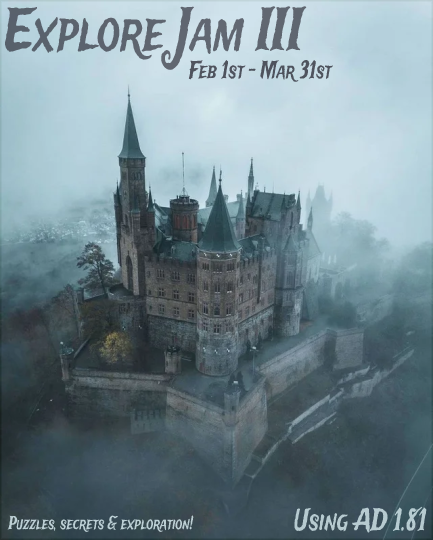 Ranger has tired of infinite battles and decided to visit some peaceful dimensions. Nevertheless boredom is not an option! This time non-combative realms will entertain Ranger with puzzles, traps, tricky movements or simply intriguing story
ENDS:
31 March 2023
PROGS:
Arcane Dimensions 1.8
NAMING:
ej3_authorname
Countdown: https://www.tickcounter.com/countdown/3814930/explore-jam-3
*Practically jam will end when 31th March will end in UTC-12 timezone
RULES
AD 1.18.1 progs
No theme restrictions
Any textures set you like is allowed
Peaceful mobs are allowed only with no_axestart 1 and with nomonstercount 1
Also pinned non-moving boils are allowed. They're literally function like any other static trap
1 vania item have to be used (jump boots, lava shield, blast belt, air tank or grapple hook)
Movement puzzles, demanding tricky movement knowledge, are allowed
Map variables 00-95 can be used by any mapper in their map and should be reset to zero on worldspawn
8192 x 8192 limit
Music track numbers must be reserved
Exit portal of map must go to start map
SUBMISSIONS:
Message alexUnder#8923 on Discord
upload the zip file to this Slipseer thread
Do not post your maps in "Downloads"!
Dropping your map files in a Discord channel does not count!
Latest A.D. https://www.moddb.com/mods/arcane-dimensions/downloads
Don't forget to check Test Maps: https://www.slipseer.com/index.php?resources/ad-1-8-1-test-map-pack.153/
And Test Map with Variables, they're very much useful for puzzles: https://www.slipseer.com/index.php?resources/ad-1-8-1-variables-test-map-pack.154/

==========
Reserved music tracks:
#22 recycledoj
#92 CommonCold
Last edited: