Feb 15, 2022
148
1
504
93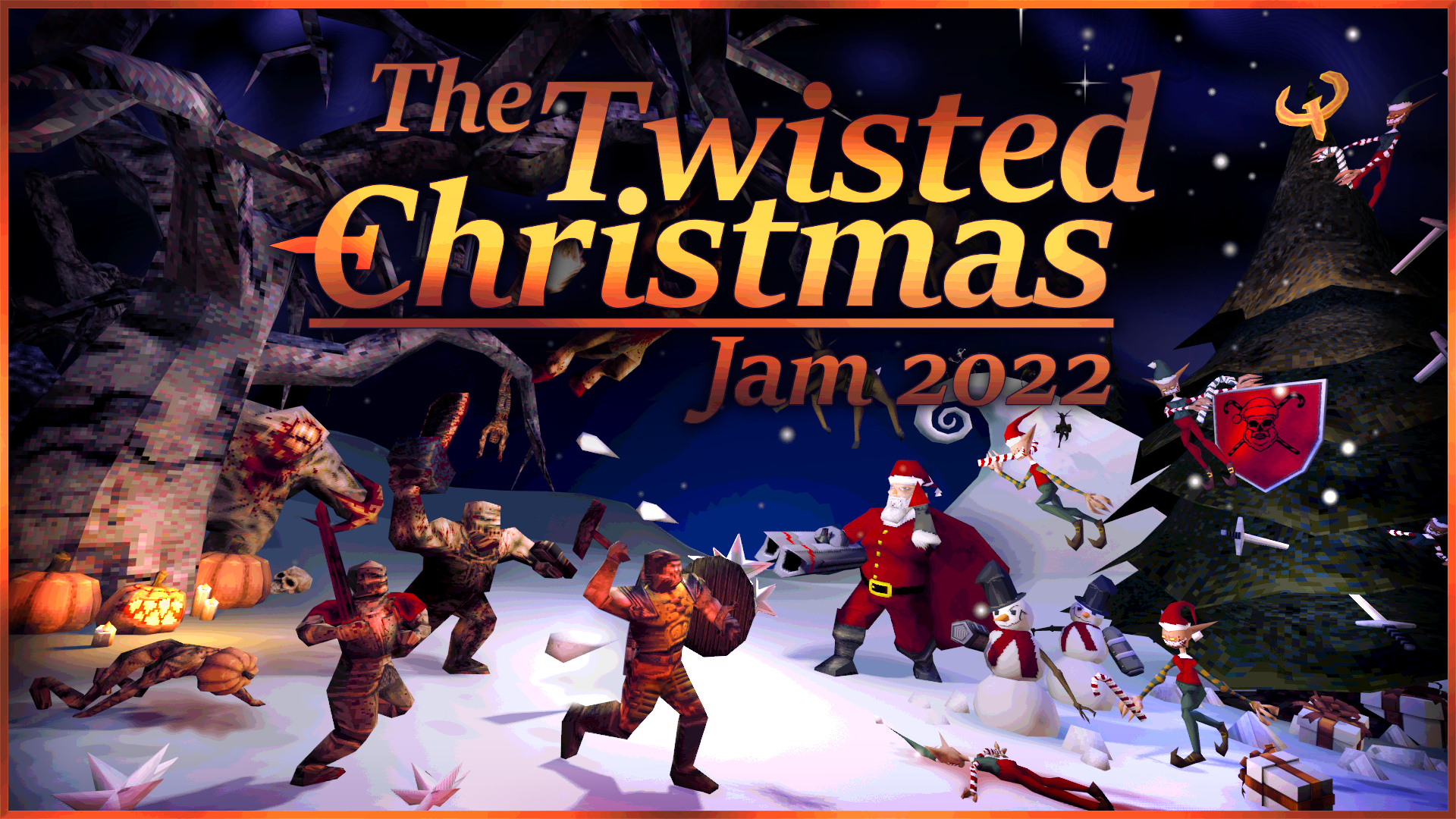 The AntiClaus
has risen! He has already done away with Halloween, and is now working to destroy Christmas! Your goal, dear mapper, is to not let that happen.
Since gaining access to Slipgate technology, AntiClaus has brokered a deal with Shub-Ngurath to deliver weapons of unfathomable power to all of the Black Goat's minions across any dimension he can get his corrupted sleigh to. So again, it falls upon the venerable Slipgate Warrior - you - to slay every last living thing in all worlds AntiClaus has access to. Otherwise, it's coal for all the good kids in every dimension!
This jam hopes to bridge the gap between this year's missing Halloween and Christmas jams, allowing mappers to pick and choose their favourite theme. You have a little over a month to create a map using the latest 1.8 version of the Arcane Dimensions mod. You are free to utilize new and existing assets, remix older projects or finish up unfinished maps.
​
Information
ENDS: Thursday, 15 December 2022 17:00 (UTC+11)
COUNTDOWN:
https://www.tickcounter.com/countdown/3603131/twisted-christmas-jam
THEME: Christmas or Halloween themed maps, optional.
TEXTURES: No restrictions.
PROGS:
[Arcane Dimensions 1.8]
NAMING: tcj_authorname
SUBMISSIONS: Message fw#7273 on Discord, email (frwthrDOTdesignATgmailDOTcom), or upload the zip file to the Slipseer thread!
Rules and Guidelines
While making your map Christmas or Halloween themed isn't required, it's certainly encouraged!
Keep co-op compatibility in mind whilst creating your map.

Place extra co-op player starts.
Add shortcuts and minimize single-way lock-in encounters.

Your map must be compatible with the Quakespasm source port.
Your map must be compatible with the Arcane Dimensions 1.8 mod.
Your map must have it's trigger_changelevel set to "start".
To utilize a custom music track, you must claim a track number in this thread.
Do not post your maps in "Downloads"

Post the contents in a .zip file in this thread.
Send your map to the given email/discord addresses.
Dropping your map files in a Discord channel does not count!
FAQ
Q:
Can I enter my map before the deadline?
A: Yup, as long as the map is received before the deadline, they'll go in the pack.
​
Q:
Are collaborations okay?
A: Yup! Feel free to enter with a friend.
​
Q:
Do I need to be a Slipseer member to join?
A: No, we have email and Discord available for those who don't have a Slipseer account.
​
Q:
Can I make a Burton-esque twisted fantasy map with blackjack and hookers?
A: Please do.​
Music Reservations