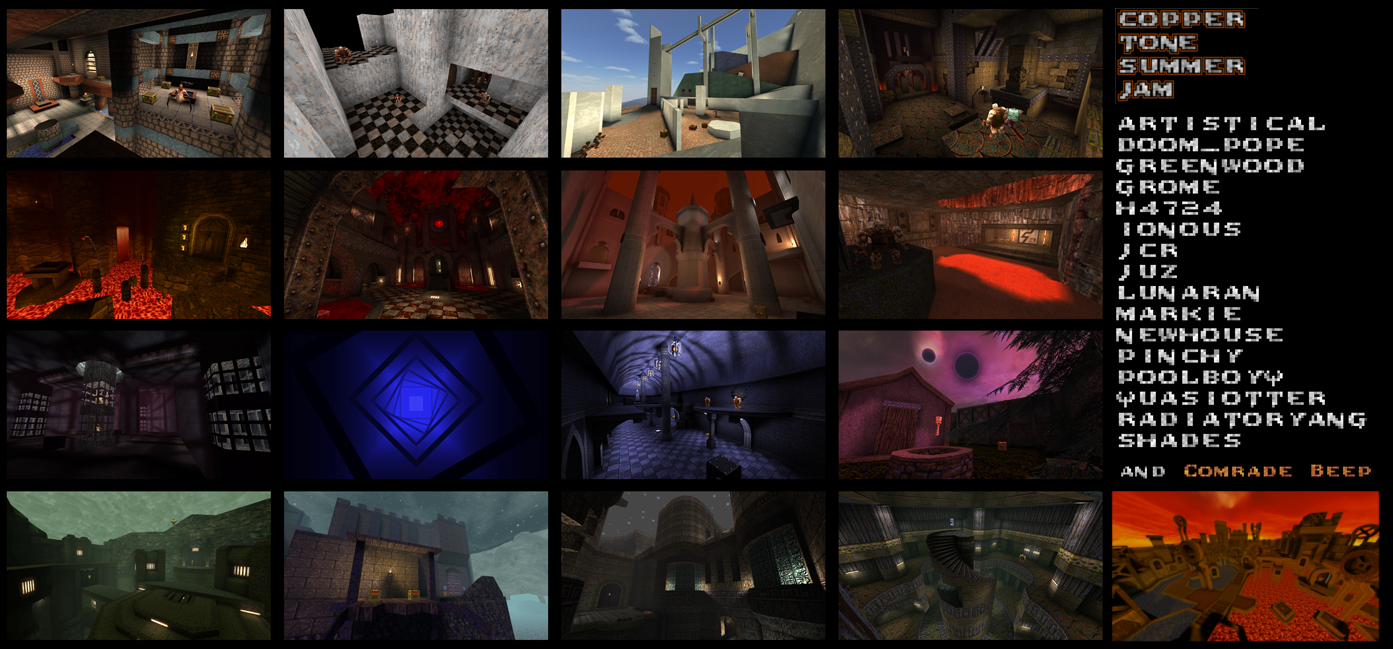 ---
Coppertone Summer Jam​
This Jam event was took place on the #Quake Mapping Discord and func_msgbrd from July 1, 2020 until July, 15 2020. It was organized and managed by Lunaran with assistance from Comrade Beep. Mappers were encouraged to focus on gameplay elements.​
---
Installation​
Extract the content of this archive with directories preserved into your Copper base dir (etc/quake/copper/ <- here).​

Run Quake with -game copper (or switch to Copper through the in-game menu if your engine of choice supports this)​

Type "map ctsj_start" at the console.​
---
Maps​
| | | |
| --- | --- | --- |
| ctsj_artistical | Beneath An Ivory Facade, It Watches You Writhe | Artistical |
| ctsj_doom_pope | The Pumps of Dagon | Doom_Pope |
| ctsj_greenwood | Blue Brawls | Greenwood |
| ctsj_grome | Sunscorched | grome |
| ctsj_h4724 | The Veiled Basin | H4724 |
| ctsj_ionous | The Great Sea Wept | Ionous |
| ctsj_jcr | Primordial | JCR |
| ctsj_juz | The Dismal Omelette | Juzley |
| ctsj_lunaran | Quad is a Four Letter Word | Lunaran |
| ctsj_markie | Grim Gallows | Markie |
| ctsj_newhouse | Utopia | Newhouse |
| ctsj_pinchy | Sandworn Fortress | Pinchy |
| ctsj_poolboyq | Dies Irae | PoolboyQ |
| ctsj_quasiotter | THERE ARE NO NEW IDEAS | Quasiotter |
| ctsj_radiatoryang | Once More, With Feeling | radiatoryang |
| ctsj_shades | Demesne of Sorrows | Shadesmaster |
| ctsj_start | Foundry | Comrade Beep |